Mission
The mission of the Advanced Methods Division (AMD) is to provide methods support across all ASDL divisions and to train the next generation workforce in new approaches and techniques through undergraduate, graduate, and professional courses.
Functions
AMD advances the state of the art in systems engineering design methods and helps transition new approaches and techniques across ASDL's research and educational activities. Its core functions include:
Model Based Systems Engineering
Large Scale Optimization
Extensions to Surrogate Modeling
System Design Methods
Uncertainty Quantification
Strategic Planning
Decision Science
Production Analytics
Activities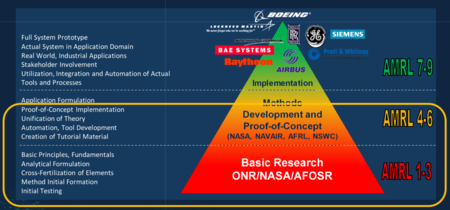 AMD provides a platform for the advancement of surrogate modeling techniques, from capturing field quantities, to representing time dependent responses. These techniques are leveraged to enable uncertainty quantification and other system design methods.
In collaboration with industry and government sponsors, AMD applies data science techniques to a variety of fields from production analytics to safety assessments.
Through projects focused on complex problems such as the placement of satellite constellations or fleet selection and assignment for nationwide package distribution, AMD researchers explore large-scale optimization approaches.
AMD develops and tests qualitative strategic planning approaches to support decision making.
MBSE has been a key area of development in recent years for AMD, with ASDL serving as the Airbus Center of Excellence for MBSE-Enabled Overall Aircraft Design.
The division is actively involved in the Systems Engineering Research Center, a University-Affiliated Research Center of the U.S. Department of Defense, through several projects.
Members of the AMD team participate in relevant International Council on Systems Engineering working groups including the Object Management Group, which focuses on standardization efforts and developing the next generation of MBSE.
Team