Mission
The mission of the Digital Engineering Division (DED) is two-fold:
Support the development of the next generation of digital models and ecosystems by closely aligning the physical and digital worlds
Respond to the Challenges, Barriers and Needs for the Development of a Digital Workforce
This is achieved through the:
Integration of models and data sources across disciplines and functional layers to help in decision making
Development or integration of artificial intelligence and machine learning approaches
Exploitation of connections between people, applications, devices and services, and
Training and mentoring of our students through a number of Grand Challenges, sponsored research projects, and Master's and Ph.D. research
Function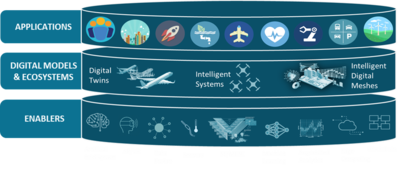 Digital Engineering, in its very essence, is concerned with advancements in computing, modeling, data management, and analytical capabilities to improve the practice of engineering. It does so by requiring the integration of a number of enablers, from IoT devices to data fusion techniques, machine learning and artificial intelligence approaches, Model-Based System Engineering, augmented analytics, etc. By its very nature, the Digital Engineering division supports research beyond aerospace engineering to include industries such as energy, manufacturing, transportation, smart cities, and infrastructure.
Research Thrusts
Digital Enterprise Definition, Modeling & Simualtion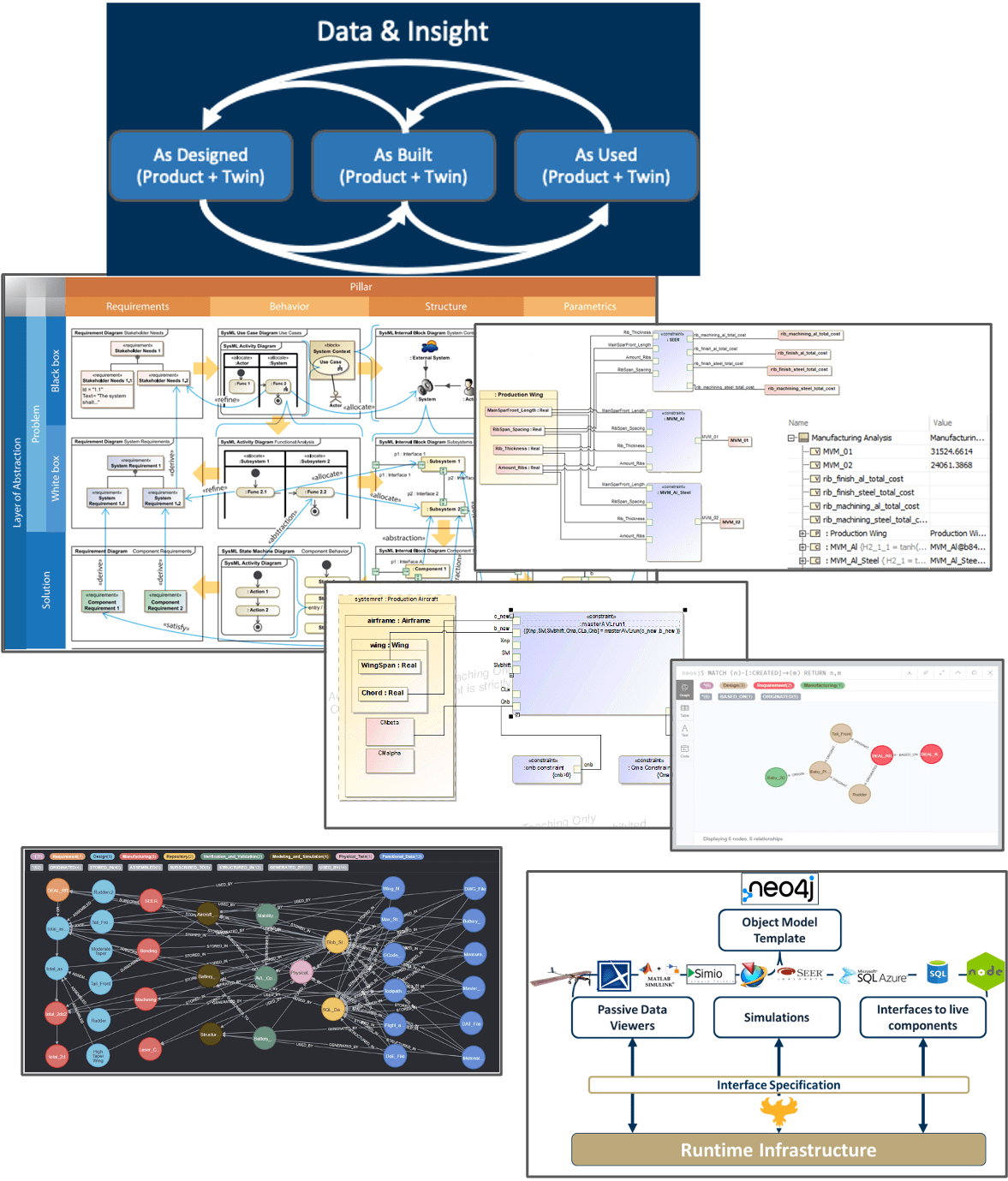 Some efforts for this thrust have focused on:
The development of a digital enterprise architecture that seamlessly integrate the virtual and physical worlds in each of the As‑Designed, As-Built and As-Used phases of a product's lifecycle. The As‑Designed phase covered conceptual and preliminary design as well as requirements tracking through MBSE. The As‑Built phase used CAD and PLM software to model and manufacture a proof of concept vehicle. Lastly, the As‑Used phase used physics‑based models and empirical flight test data to predict and validate vehcile behavior. The communication between each phase was enabled through a digital thread by means of Neo4j, a graph database.
The development of a Model-Based Enterprise Architecture for Institutional Management Digital Twins: this effort leverages MBSE and UAF to guide and prioritize investments related to NASA's aging infrastructure and facilities, by linking facilities to the missions they support.
The definition, evaluation, and design of​ an enterprise for agility​: the focus is on developing a limited-scope, realistic virtual representation of an enterprise, (including its people and their roles,​ the business processes,​ the tools and resources being used, etc.​) to serve as a platform to: 1) quantify the performance of the enterprise,​ 2) model the impact of modifying roles, processes, etc. within the enterprise, and​ 3) identify opportunities to improve the enterprise​ and enable data-driven decision-making.
Digital Intelligence & Digital Twin/Thread Modeling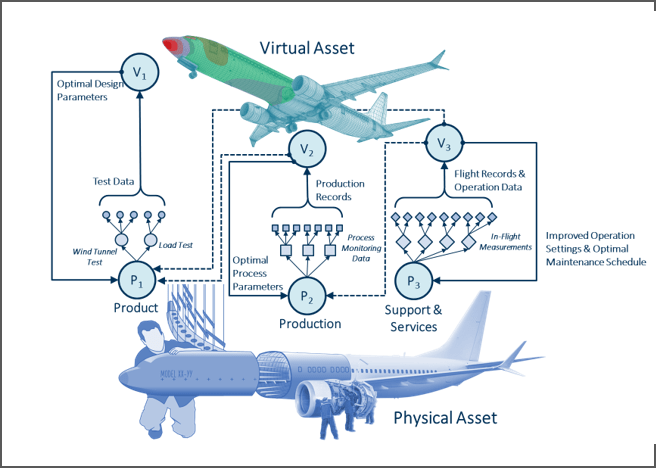 Some efforts for this thrust have focused on:
Demonstrating the seamless integration of system models with multi-physics analysis tools and libraries to support a number of analytical capabilities.
MBSE for Digital Manufacturing and in particular the development of a methodology aimed at capturing manufacturing and production system considerations in a model‑based environment. It demonstrated how model‑based systems engineering allows for the connection and integration of product design, manufacturing and production models and data through an authoritative source of truth (ASoT).
​Digital Thread Proof-of-Concepts, with the focus being on 1) demonstrating the integration of functional data with a MBSE model and 2) extending an existing data architecture to demonstrate tracking/curation of relevant model parameters.
Investigating the role of Digital Twins in Wargaming Scenarios with a focus on exploring the benefits of connectivity between military assets in the digital domain for diagnostic and predictive purposes in a contested environment. In particular, we investigate 1) the impact of digital twin fidelity and accuracy (twinness), and communication requirements on outcome of interest, 2) pathways to better understand how and under what circumstances assets in the field can communicate a need for parts for replacement, 3) best practices for resupply and logistical support to facilitate just in‑time delivery mechanisms to the battlefield and 4) ways to enact more agile and trustworthy machine‑to‑machine tasking.
Living Habitats & Smart Cities
Over the last few years we have engaged our students in the modeling and simulation of engineering systems but also socio-cyber-physical systems, both on Earth and on the Moon. Examples of efforts involve:
Smart Campus
Digital Twin Perspective to Aerotropolis Concepts
Space Habitats
Digital Infrastructure & Sustainability
Kendeda Living Building: Our team recently completed the development of a Digital Twin of GT's Kendeda Building for Innovative Sustainable Design, which is the most environmentally advanced educational and research facility of its kind in the Southeast and is intended to serve as a living-learning laboratory for sustainability. The use of the Digital Twin developed made it possible for this building to receive certification earlier this year as a "Living Building" from the International Living Futures Institute (ILFI).
Physics of Energy & Water Infrastructure
Sustainable Mobility
Smart Building Infrastructure
Sustainable Mobility
ML/AI Applications to Engineering and Systems Engineering Problems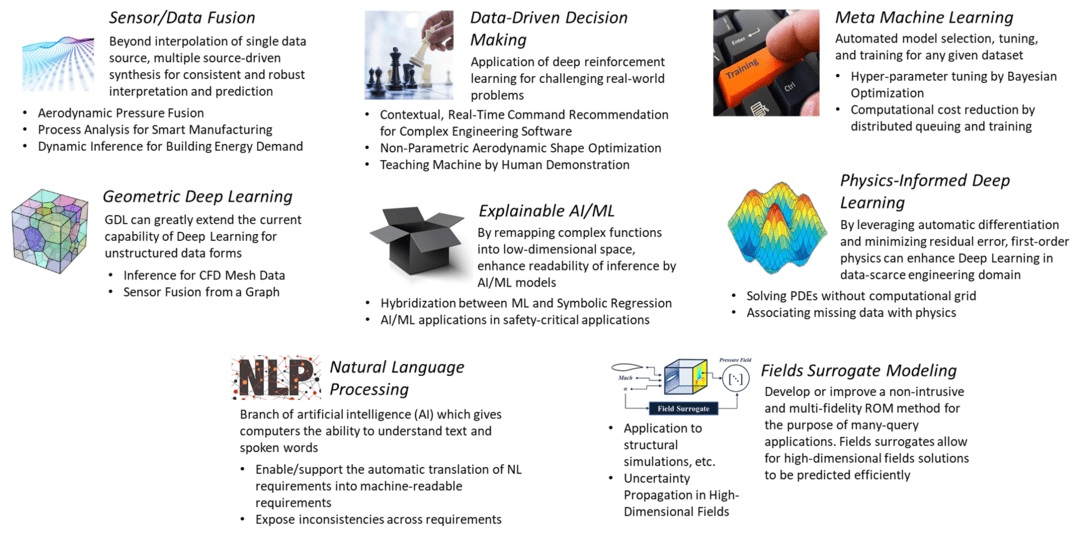 Deep Learning-enabled Data Fusion
Deep Learning Applications for Robotics
Reinforcement Learning for Airfoil Shape Optimization
Knowledge Extraction & Representation
Enhancing Surrogate Modeling using Deep Learning
Natural Language Processing for Requirement Engineering
Involvement in Professional Societies & Working Groups
Due to the nature of our research and interests, members of our division are very much involved in the activities of the American Institute of Aeronautics and Astronautics (AIAA) Digital Engineering Integration Committee (DEIC), the International Association for the Engineering Modeling, Analysis and Simulation Community (NAFEMS), INCOSE, and the OMG Digital Twin Consortium (DTC).
Team